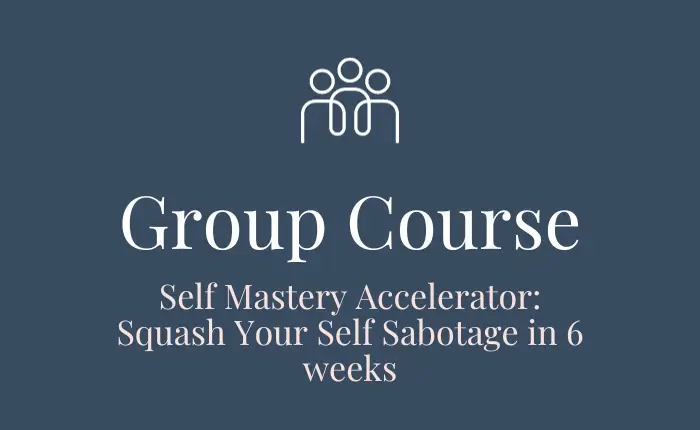 About Course
This winter cohort starts January 8th, just in time to kick start your new year. What to expect and prepare for:
Pre-recorded content is released every Monday

Hot seat coaching and Q&A every Thursday (will be recorded)

Handouts for explicit step-by-step deconstruction of your self-sabotage

Accountability with the cohort and support in between calls using the Telegram App
Imagine that you:
Feel more confident, assured, and at peace than ever before

Know how to navigate negative and difficult emotions without shutting down, spiraling, or exploding

You're fully showing up in life and not letting circumstances dictate your mood

Have complete control over how you respond and react

Have the tools to be consistent and present
Listen up: The question is not whether you self-sabotage or not, no one escapes this phenomenon. So, what you get to do is discover how strong it is, how and where it shows up, and what it thinks it's protecting you from.
Once you understand your self-sabotage you will find all the ways it becomes predictable because it's a pattern. The people who avoid this inner work live out the same patterns, day after day, year after year, and call it a life.
To fully shift out of your self-sabotaging patterns it is going to take increasing awareness and learning how to successfully change habits that none of us are taught in school. It is going to take you learning how to be deeply present and build the mental and emotional strength to break through your strongest survival instincts.
If you're here I know you are ready for more than the same negative spiral you've been digging yourself out of. You know there are people who have found peace, purpose, and power and you want to know how to do that too.
Testimonials
"Working with Shelly was one of the most transformative experiences I've ever had" – Cait D.
"Anyone struggling with bad habits & negative patterns who wants to break free and start being all who they were meant to be — coaching with Shelly is the best thing you can do for yourself" – Anna C
"Shelly helped me realize SO much about my situation and really opened my eyes to more constructive ways to cope with my past trauma and bad habits. Turns out – shaming yourself and judging yourself isn't the way!" – Zak G.
"The skills I learned from Shelly are unparalleled. I feel like a completely different person since working with her and have gotten so many compliments from people in my life about the growth and change they've seen in me" – Danielle S.
"I feel so good about where I am. It is great to have strategies to manage the negative thought patterns that get in my way. I feel more comfortable in who I am and expressing myself!" – Elizabeth P.
At the End of 6 Weeks, you will:
Cultivate a deeper sense of self

Create more self-compassion for yourself and towards others

Become more present

Tap into the confidence you didn't know you had

Operate from your authentic self
What you will learn:
Discover your dominant self-sabotaging personality type

Strategies to unlearn your self-sabotage patterns

Be able to shift out of negative spirals, faster

Develop a positive mindset that focuses on what's possible for you and your life

Create core mental and emotional muscles
About me
Shelly Belk is a Behavior Analyst, Master Life Coach, Breathwork Facilitator, and an expert in self-sabotage. Her Judge Saboteur was strong and it triggered her Stickler and Hyper Achiever Saboteur most of her life. She practices what she preaches and using the same tools that she will be teaching you has found so much peace and confidence in herself. And her family gets to have that version of her too. She truly believes that when you win, everyone else wins too.
She has coached hundreds of people and after noticing that they were lacking so many of the same things, and had the same unawareness of their origin wound, this 6-week boot camp was born. But not without her saboteurs active. They tried to convince her that she could only help people 1:1, that this would be more work than it was worth, and that people didn't actually want this. Yet, here I am. The most excited I've ever been to offer something to the world, and I want to teach you that same self-command that got me right here.
If this sounds like you then this program is for you…
You know your fear of failure is holding you back

You're sick of distracting yourself with scrolling, food, substances, and binge-watching TV

You know that people pleasing and putting others before you have to stop but you lack the confidence and discipline to do so

You're inconsistent with commitments

You have anxiety because you're always feeling behind

You have dreams and goals but you doubt yourself, your capabilities, and your decision-making

You work hard but no matter what you achieve you don't feel successful

You're tired of listening to your inner critic and believing it

You are always overthinking and overanalyzing and you know it's getting in your way

You're the person who has a shiny object syndrome

You're always busy but never really feel like you're accomplishing anything

You're the type of person who wants to give up as soon as things get hard

You're type-A who has a strong need for control and lacks flexibility
You may have read personal development books or tried new habits in the past, and that's great. But what these things lack is getting to the root. I want you to know what your operating system is so we can start building it from the ground up. I want you to know the lies and justifications that your saboteurs tell you so you no longer claim them as part of your personality and use your newfound strength to bring you right back to the present moment and make decisions from an empowered place.
6 weeks dedicated to squashing your self-sabotage and unlocking your true potential with concepts including:
understanding your self-sabotaging patterns

emotional intelligence

emotional brain training

overcoming your triggers

mindset work

mindfulness practices and habits

inner child work
The course includes:
6 – 1 hour live calls

Weekly Action steps that confront and squash your self-sabotage

How to guides that will help you in all areas of your life

Accountability

Be in a community with like-minded individuals

Hot seat Coaching Opportunities

Lifetime access to content and materials
Show More
What Will You Learn?
understanding your self-sabotaging patterns

emotional intelligence

emotional brain training

overcoming your triggers

mindset work

mindfulness practices and habits

inner child work
Course Content
Pre-Work
Welcome to Self Mastery Accelerator

Understanding the Subconscious Mind

Paradigms

What the heck is Self-Sabotage Anyway?
Week 1
Week 2
Week 3
Week 4
Week 5
Week 6
Student Ratings & Reviews
No Review Yet